Dark Star - Benson Arizona
"Dark Star" (1974) is one of my favorite John Carpenter movies, and I've been trying to find the soundtrack for a long time. In particular, it contains a song called "Benson Arizona" which was written by Bill Taylor (lyrics) and John Carpenter (music) and performed by John Yager (vocals), John Carpenter, Terry Winkless, Tom Wallace and Justice O'Neil (backup musicians) for this movie.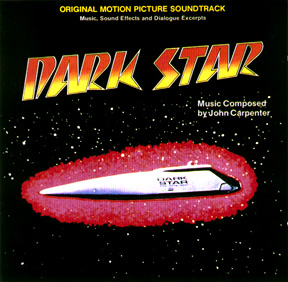 The record was published as Citadel CT 7022 (LP, 1980), Colosseum VSD-5327 (CD, 1992), and Varese Sarabande VSD 5327 (CD, 1992), all of which are out of print today, unfortunately.
Here's an mp3 (2:34, 3.0 MB, 160 kbps) which was digitally ripped from the DVD. Enjoy.
Doolittle: Let's have some music in here, Boiler.
Boiler: Sure thing!
Lyrics
A million suns shine down
But I see only one
When I think I'm over you
I find I've just begun
The years move faster than the days
There's no warmth in the light
How I miss those desert skies
Your cool touch in the night


CHORUS:
Benson, Arizona, blew warm wind through your hair
My body flies the galaxy, my heart longs to be there
Benson, Arizona, the same stars in the sky
But they seemed so much kinder when we watched them, you and I


Now the years pull us apart
I'm young and now you're old
But you're still in my heart
And the memory won't grow cold
I dream of times and spaces
I left far behind
Where we spent our last few days
Benson's on my mind


(CHORUS)

Thanks to Terry Simpson for sending in corrections for the lyrics!
Mail from John Yager
On May 3rd 2006, I received a brief email with corrections to the lyrics, which was signed with Best Wishes, John Yager. I replied, and it turned out to really be from the John Yager:
Thanks - I am John. In 1973 or so, I was friends with Carpenter and
other USC Film School filmmakers. Carpenter heard me sing once, and
asked if I'd do the lead vocal for the Dark Star theme. The background
vocals were recorded on a sound stage at USC where the film was being
shot, next to the full-size space-ship interior. I also sang in the
background vocal, with the others, though this isn't credited. My lead
was recorded in an evening, at the apartment of a friend of Carpenter's,
with Tommy Wallace on pedal steel guitar, I think, and Carpenter said
the mix was exactly what he wanted. If you have any questions, I'd be
happy to answer them.

John
And John was kind enough to answer my questions and let me share his mail with you:
Hi Daniel-

It's fine with me if you post my answers. Gratifying to know that
people appreciated the song, and the film - it was a brilliant effort in
a number of ways.

I was never a professional musician, apart from being in a band in
college. I'm afraid "Benson" is the only thing I did that's
commercially available.

I agree about the comments about the country & western genre - the
thing that makes "Benson" so good is that it uses that idiom to convey
an intelligent, and very uncountrylike idea, and the contrast makes the
song unusually poignant.

I'm sure your interpretation of the song as revolving around
relativity and the space traveler remaining young is correct, but I
don't remember anyone discussing it - I think we all appreciated the
cleverness of the idea, but took it pretty much for granted.
Carpenter's a smart guy, a highly motivated, successful and talented
writer and filmmaker, as well as a musician, and the song was no more
than you'd expect from him.

As far as Benson itself, I have no idea why Carpenter chose it. I
assume he traveled through there at some point, but I don't know. Not
long after we recorded the song, I drove east across the country, and
chose the extreme southern routet, specifically to go through Benson,
which isn't far from Tombstone. It was August and over 100f when I was
there. Very barren. Somewhere I have a picture of me standing in front
of the Benson railway station. If I run across it, I'll scan it and
send it to you.

Best regards,

John
Mail from Bill Taylor
On December 19th 2012, Bill Taylor ASC wrote:
Dear Daniel,

I can't remember if I sent you this information before; if I did, apologies!

As suggested on your website, "Benson Arizona" is indeed about the time
paradoxes involved in near-faster-than-light space travel. The song has
picked up a new verse as recorded by Joe Bethancourt (see attached letter
to Joe) which seems oddly unrelated.

However it's quite wonderful that an obscure song from an only slightly
less obscure movie, that was never published as sheet music has survived
for decades. (There is sheet music online, transcribed by an unknown hand.
Oddly the sheet music does not credit John Carpenter.)

For a while I thought I had invented the Country & Western Science Fiction
Song, but I've since discovered that the "Filk Music" genre existed long
before I came along.

Thanks for the interview with John Yager, for telling the story, and for
getting the lyrics right!

With every good wish,

Bill Taylor ASC
Bill kindly agreed to quote his mail here, as well as his letter to Joe Bethancourt:
Dear Joe,

Thanks for your reply! It's also a rare treat for me to be able to thank
someone for performing "Benson Arizona".

When anyone asks me about the song (very rarely I assure you) they say,
"Why Benson?" Here's the story. During my brief college career (three
semesters at Pomona), I met a splendid lady named Kay Henden, who I
pursued avidly, but with little success. On Christmas break 1964 I decided
to drive from L.A. to her family home in Las Cruces, and surprise her with a
Christmas present.. The generator in my Morris Minor broke down on
Christmas Day in Benson, a tiny place at the time.

A gas station mechanic referred me to the only guy for miles around who
might have a Lucas generator, a chap who apparently repaired generators
in his garage as a hobby. He could not install the new generator himself,
he explained, because he was "all swole up like a toad" from Christmas
dinner, but he loaned me the tools and gave perfect directions. Thanks to
the kindness of those two gentlemen who were willing to help a stranger
on a holiday, I was soon on my way with good thoughts about Benson.

In 2003 after many fits and starts and four divorces between us, Kay and I
were married, giving the story an even better ending. Yeah, there's a song
in there somewhere!

The original "Benson Arizona" lyrics were written by me, the music by
John Carpenter, who also composed the score (as he has on most of his films
since.) John and I wrote one other song together, "Just For Today" for
"Assault on Precinct 13", which was recorded by Steve Young. When John
first described "Dark Star" to me, he used the phrase, "truck drivers in
space", which is why I suggested a country song.

In the version of the song you recorded, there is a third verse I did not
write, and two additional names I do not recognize credited as writers. The
new verse does not seem to relate to the theme of the song. "O'Bannion"
in the mystery names might be referring to Dan O'Bannon, who co-wrote
"Dark Star" (and many big-profile films until his death in 2010). He also
starred in the film (as Pinback), edited it, and supervised the visual effects,
but he had nothing to do with the song. That's about the only thing he
didn't do!

We all wore several hats. I was primarily the Visual Effects Consultant, I
guess because I was the only guy who had any professional effects
experience, trying to figure out the working methods on our less-than-
shoestring budget, I suggested to John that the movie, originally a 16 mm
USC short film, should be blown up to 35mm, with little added expense
given the large number of optical effects, which may have gotten him
thinking about a feature version. I wound up doing the blow-up myself
while incorporating the visual effects shots, my last freelance gig before I
went to work at Universal.

I did write a third verse, but the song and the main title timed out perfectly
without it, so it was never recorded. No loss, my good ideas are in the two
verses beginning: "a million suns shine down", and: "the years pull us
apart"..

Now the real surprise for me: I mentioned your name to my wife Kay last
Thursday. She said, "That name sounds familiar, " came back with a vinyl
disk signed by you on the sleeve. Turns out we saw you perform when Kay
lived in Scottsdale 15 years ago. I'm sorry to say I had forgotten
completely, Kay remembers the venue as a small cafe, and that the stage
was packed with string instruments, all of which you played expertly.

With every good wish, Bill Taylor ASC
Related links
This page is maintained by Daniel Hartmeier, you can reach me at daniel@benzedrine.ch.